Springfield, OH Fencing Company
Gebby's Fence
Gebby's Fence is a bonded and insured fencing company in Springfield, OH. We offer professional fence installation and repairs to residential, commercial, and industrial clients for both decorative and functional fencing needs.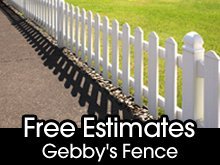 Learn More About Gebby's Fence:
Chain link
Custom built wood
10 year written guarantee
Vinyl fencing
We accept most credit cards.
Contact Gebby's Fence today at 937-964-9835 or 937-964-9835 for all of your Springfield, OH
fencing needs.
Gebby's Fence
Springfield, OH